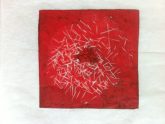 19/08/2016
/ By Vibeke Glarbo
ROSE MUNDI
Exhibition: Rosa mundi 29.10.2016 – Lyngby Kunstforening 1 Rosa Mundi is an ancient rose already known in Denmark in the middle age. It is vigorou...

02/15/2016
/ By Vibeke Glarbo
A TRIBUTE TO ANNA ANCHER
I'm having an exhibition at Skagen Odde Nature Center May 1 – July 15, 2016 with "Torbens Øre"....
11/05/2006
/ By Vibeke Glarbo
THE SCULPTURE "TEGN"
The design of the sculpture TEGN was created based on an analysis of the place near Bymuren 1 that was indicated by Kunsten Stiger. This is not a place where peo...